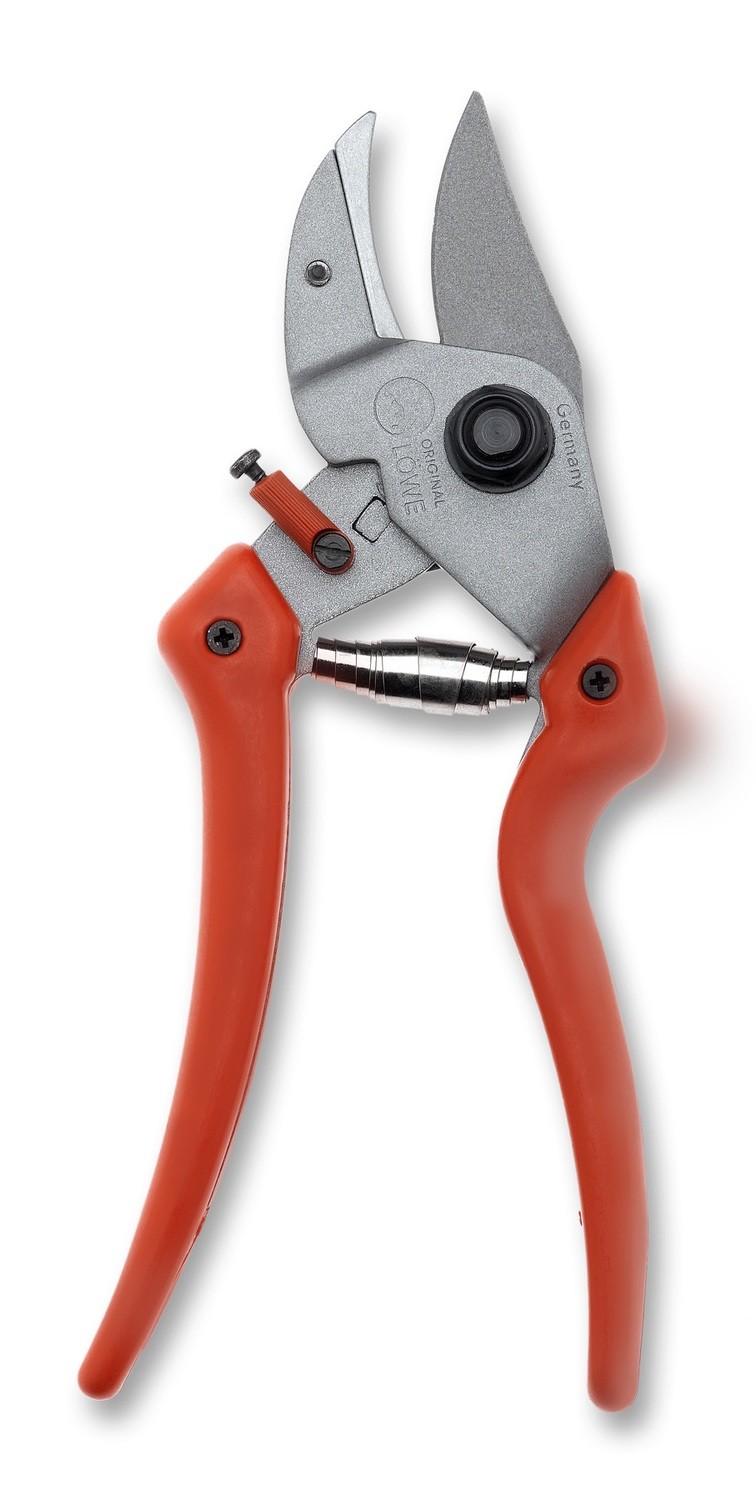 LÖWE 7.107 Anvil pruner with short cutting head and curved blade
SKU LO-7.107
Product Details
[tab name="Overview"]
Amazing curved blade/anvil style combination hand pruner. Unique adjustable handles ensure a perfect fit for any hand size, from small to medium hands for both left and right. Maximum cutting capacity is 22 mm — just shy of an inch. Very little maintenance required. Cutting head is slightly shorter and more compact than those of the 8 series. All parts are replaceable and readily available from Big Bear Tools. Another exceptional member of the LÖWE curved blade/anvil series.
[tab name="Technical Specs"]
Big Bear Tools offers Original LÖWE 7.107 Anvil pruner with short cutting head and curved blade

An Original LÖWE product, LÖWE 7.107 is an Anvil pruner with a short cutting head and curved blade.

This work of art from our Bear Necessities tool line up is a heavy-duty hand tool with grips curled inwards, very compatible with small hands.

It has an adjustable handle providing consistent clutch to any kind hand widths and diameter, with hand size variations for small, medium, and large. LÖWE 7.107 has an exterior blade position for abrupt replacement, providing sustainability and adaptability to any pruning scenarios.

With its 20 cm length and 22 mm cutting diameter, it provides consistent support to any kind of pruning jobs, whether backyard gardening or small size plot farming.

It is lightweight and can work with either left or right-hand grasp.

All parts (Blade: LO-7001/B, Anvil base with screw: LO-7002, Spring: LO-6003, Bearing in a blister: LO-6005, and Set spare parts in a blister: LO-7007) are all separately available, can be easily replaced, and can be purchased individually.

[tab name="Videos"]
[tab name="Parts"]
[endtab]
Save this product for later