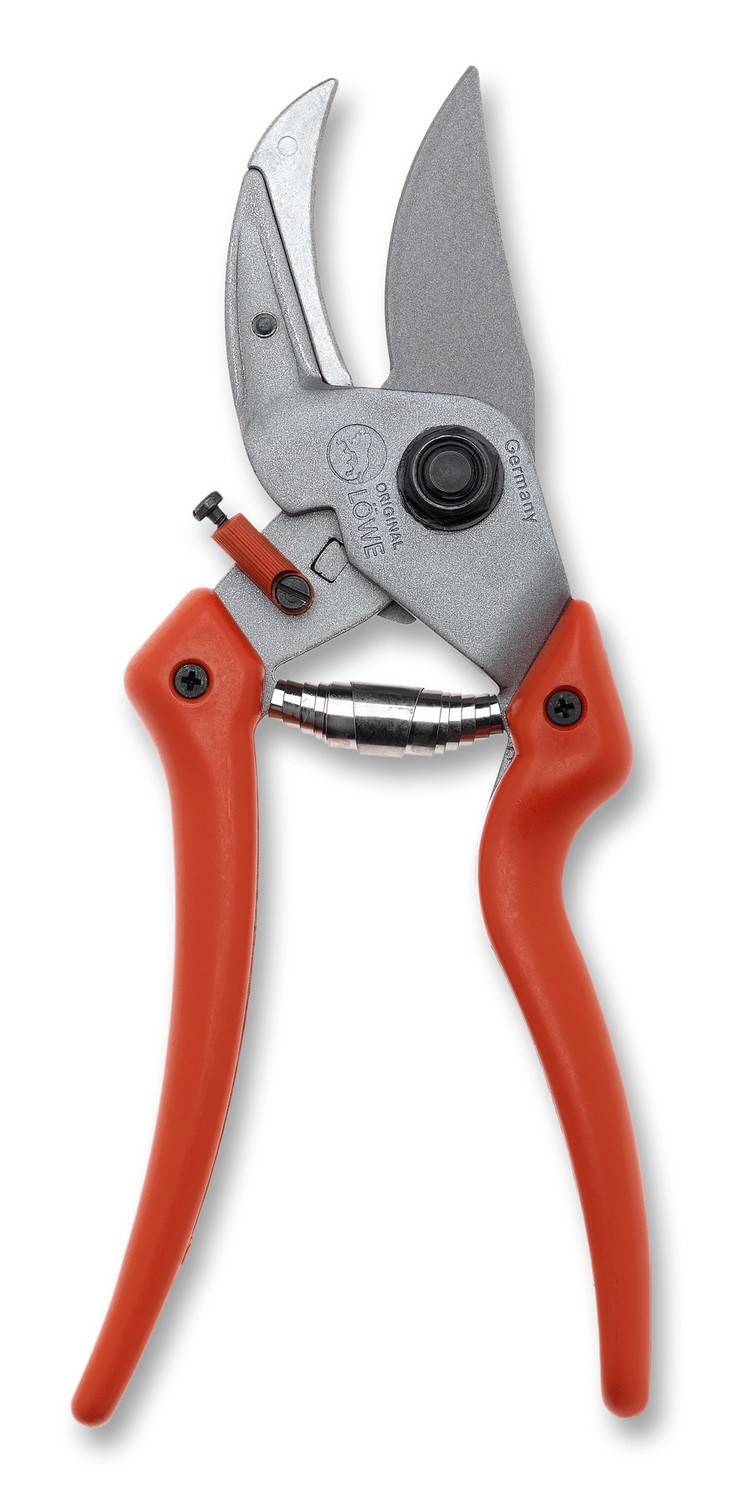 LÖWE 8.107 Anvil ergonomic pruner with curved blade
SKU LO-8.107
Product Details
[tab name="Overview"]
Curved blade anvil pruner with adjustable handle width. Handles curved inwards. Amazing new curved blade/anvil style combination hand pruner. Unique adjustable handles ensure a perfect fit for any hand size from Small to Medium hands both left and right handed. Maximum cutting capacity is 1" or 24mm. Very little maintenance required. The LÖWE 8.107 from Germany has arrived! All parts are replaceable and readily available from Big Bear Tools. Another exceptional member of the LÖWE curved blade/anvil series!
[tab name="Technical Specs"]
Big Bear Tools offers Original LÖWE 8.107 Anvil ergonomic pruner with curved blade

An Original LÖWE product, LÖWE 8.107 Anvil ergonomic pruner with a curved blade is a compact anvil pruner which can be used to cut branches with astounding ease.

With a length of 21 cm and a weight of only 250 g, it is the perfect sized pruner to be kept all the time in one's toolbox for additional cutting work support.

This top of the class standard handle shape equipment from the Bear Necessities exquisite tool line up is a work of magic, as it provides safety and comfort to every use dedicated to provide pruning support for any kind of pruning jobs, whether ordinary backyard pruning or vigorous backyard plot clearing.

This powerful pruning device offers steady assistance to any kind of pruning chores. With an adjustable handle width, it is easy to use, low maintenance, and can easily adapt to diverse pruning activities with the help of its portable design comfortable pruning experience.

This heavy-duty work of art tool from our Bear Necessities tool line up is incredible equipment made meticulously in Germany.

It is very easy to carry, and with a cutting diameter of 24 mm, it can be used with either left or right-hand grip.

Receiving "top of the line" quality from various awards and nominations, this tool can be used for any day to day pruning tasks or similar jobs. It has an external blade position for rapid replacement and has hand sizes of S, M, L.

[tab name="Videos"]
[tab name="Parts"]
[endtab]
Save this product for later