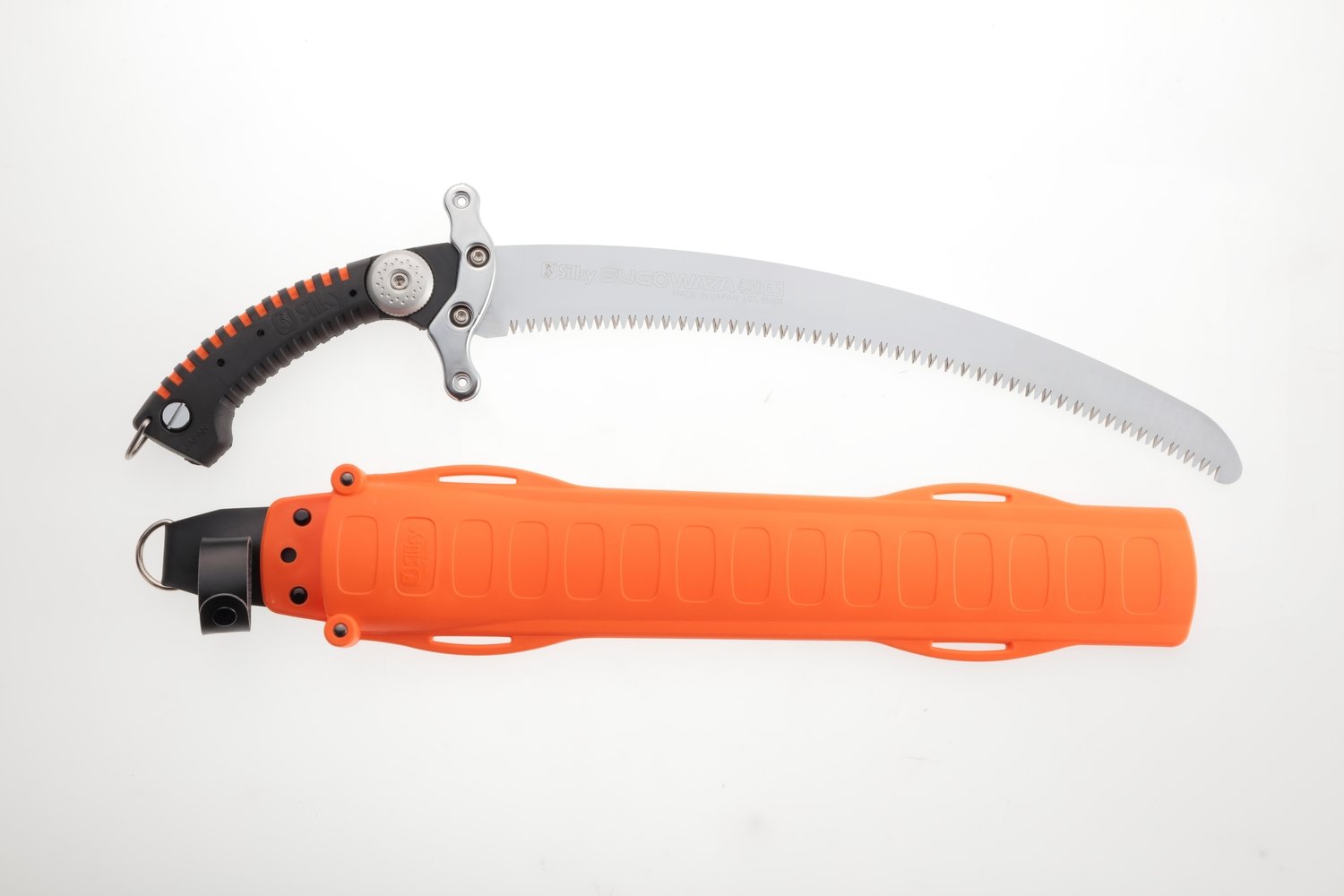 Silky SUGOWAZA 420 ( XL teeth )
SI-419-42
Product Details
[tab name="Overview"]
The SUGOWAZA is an arborist sheath saw with sword-like hilt for protection while working near power lines.
The 16.5" blade is tapered from the tooth tip to the back spine to reduce resistance and deliver smoother, easier, faster cutting performance. Hard chrome plating produces an exceedingly durable surface and is resistant to rust and effects of resin. Couple superior Ono Japan NKS85 steel with Silky's exclusive Mirai-Me tooth design and you get unmatched cutting efficiency and performance. The 4 cutting angles along the length of the blade leaves a clean, smooth surface. Cuts on the pull stoke for maximum control and ergonomic advantage. The chrome finished slip guard is specifically designed to protect rubber insulated gloves from accidental cuts and picks by tooth or thorn. Mono constructed blade runs all the way through the handle, eliminating stress and breakage. To replace the blade, simply remove the screws and slip guard. The large grooved rubber handle is comfortable to hold, reduces vibration, and offers superior grip in cold and wet conditions. Every Sugowaza comes complete with custom scabbard. Scabbard has D-ring and strap slots to enable attachment to leg, belt, or tool board/curtain.

SUGOWAZA is available in one tooth sizes/configuration: 5.5 tpi (teeth per inch) — Large/Coarse (pruning, green wood).
[tab name="Technical Specs"]
Big Bear Tools offers Silky Saws Silky SUGOWAZA 420 ( XL teeth )

An Original Silky Saws product, SUGOWAZA 420 (XL teeth) is a top of the line rust-resistant, hard chrome-plated, taper-ground blade with an impulse-hardened tooth design. It utilizes proprietary Silky MIRAI-ME (Smooth Cutting) Technology - The Teeth of the Future!

From our prestigious Bear Necessities top of the line pieces of equipment, this best-selling, state-of-the-art, professional hand saw has a depth and strength to every cut, providing greater scraping speed with less effort.

It features a chrome-plated blade with large, and precision cut tooth pattern for much more comfortable use.

This high-end top of the class large multi-purpose power saw has precision-ground, advanced razor-sharp teeth with cutting angles providing fast, clean, and extremely smooth cutting action. Superbly designed with rubber hand-grip which absorbs vibration while being used.

Considered as one of the best cutting tools in the market, the cutting angles of the blade and electronically hardened teeth make scraping well balanced.

The hard chrome-plated blade has 5.5 teeth per inch (6.5 teeth per 30 mm) teeth configuration. It resists rust and effects of tree resin and wipes clean easily. A high performance curved blade, it is best used with pruning & trimming, lawn & garden, or related activities.

Beautifully balanced straight pruning tool, with 16½ inch (420 mm) blade length and 1.57 pounds (700 grams) weight, it is the perfect heavy-duty scraping equipment to be kept and use all the time for an additional cutting job support.

This wonderful tool delivers safety and comfort to every use dedicated to provide pruning support for any kind of cutting task.

Cutting jobs can be carried out worry-free as the teeth of this saw receive a hard chrome treatment like the rest of the blade. The blade's taper-ground large teeth are very suitable for cutting, providing assurance, toughness, and durability to every use.

Made in Japan to the most rigid of tolerances, this powerful cutting instrument offers steady assistance to any kind of pruning errands.

It is simple to use, easy to keep, low maintenance, and can effortlessly adapt to diverse pruning activities with the help of its portable design.

With its smooth cutting action, sharp precision, and compatibility with any kind of hand carving works, it is capable of providing the most proficient scrapes through its tough teethed blades and competent cutting slit.

It has an electroless nickel plating and a special coating on the entire blade for strong rust resistance. With the new improved scabbard, interchangeable blades, and 3D locking system, it deters the saw from plummeting out with the locking system.

It protects the scabbard from the teeth improving it's lifespan and provides an assurance of immunity from various kinds of lacerations or cuts, keeping every finger safe with the help of security screws which protects against accidental opening or closing of the blade.

It comes with lifetime warranty against defects in material and workmanship.

[tab name="Videos"]
[endtab]
Save this product for later