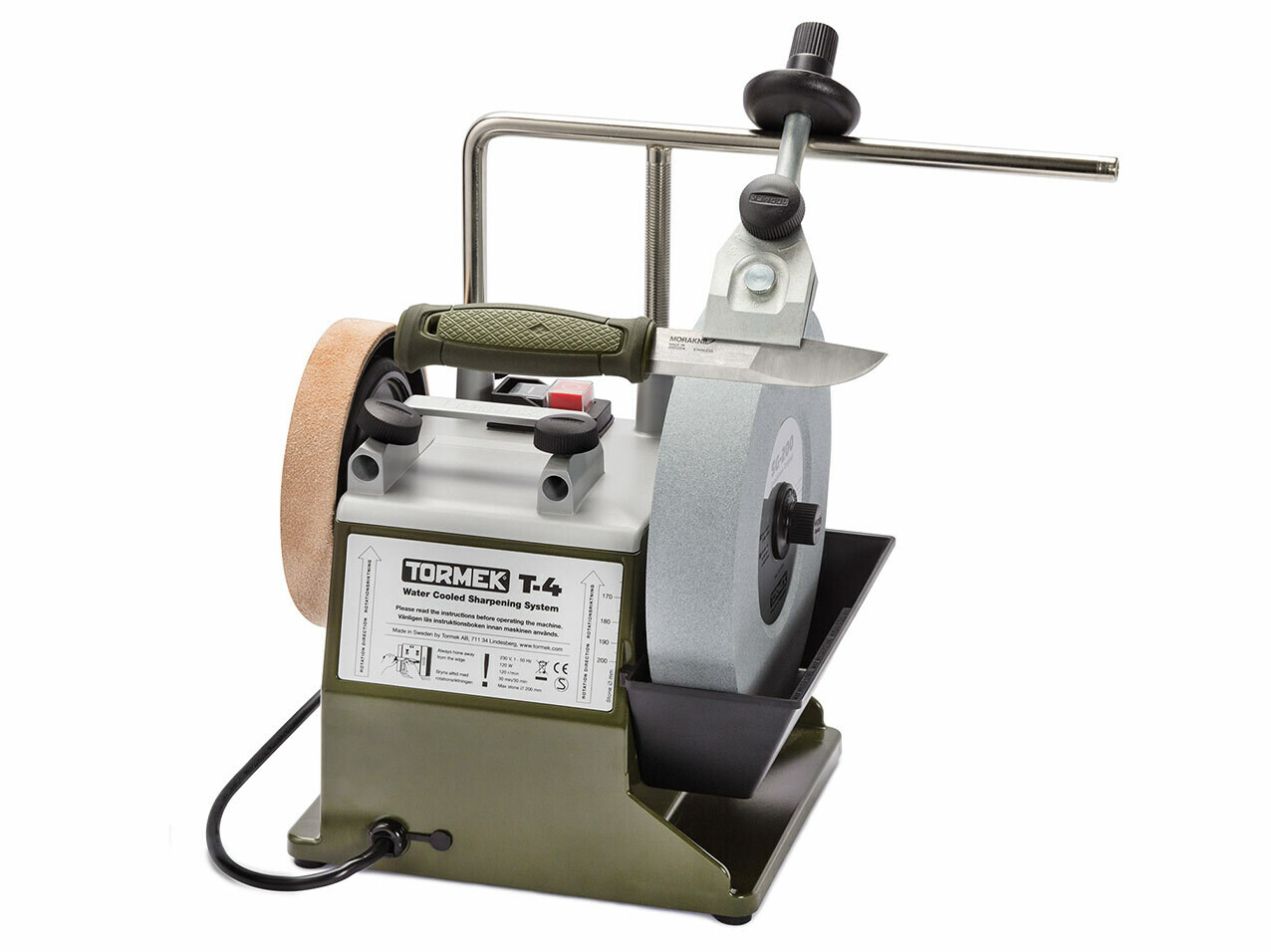 Tormek T-4 Bushcraft
SKU TO-T4/Bushman
Product Details
[tab name="Overview"]
Included in the box is the Knife Jig SVM-45, the Axe Jig SVA-170 , made in Mora, Sweden. You also get Tormek T-4's standard accessories: the Stone Grader SP-650, the AngleMaster WM-200, the Honing Compound PA-70, Tormek's Handbook on sharpening and an instructional DVD.
With this equipment, you can sharpen almost every type of knife (including kitchen knives) and axes. Sharpening with Tormek is safe and give your tools a long-lasting razor edge. For more detailed information about this model, see the product page for Tormek T-4.
The Tormek T-4 Bushcraft model is available for a limited period and while stock lasts.
In the box

SVM-45 Knife Jig

SVA-170 Axe Jig

SP-650 Stone Grader

PA-70 Honing Compound

HB-10 Handbook EN

Tormek DVD 2.1


---
Click here to read a Tormek T-4 review by Justin Moon, a professional wood carver.
[tab name="Technical Specs"]
Machine specifications
Dimensions: Width 230 mm (9 1/16"), Depth 200 mm (7 7/8"), Height 260 mm (10¼")
Weight: Shipping weight 9.8 kg, Machine only 8.0 kg
Grindstone: Tormek Original Grindstone, Aluminium oxide, ∅ 200×40 mm (8"×1 5/8") 120 rpm, torque 8.4 Nm
Leather Honing Wheel: ∅ 145×26 mm (5¾"×1")
Main Shaft: Stainless steel main shaft and stone hardware. EzyLock in composite.
Housing: Zinc cast top, Impact resistant ABS plastic
Motor: Industrial single phase, 120 W (input)
230 V, 50 Hz or 115 V, 60 Hz. Duty 30 min/hour, Maintenance free.
Silent running, 54 dB. 10,000 hour life
Warranty: 7 years*
*When used for commercial, industrial or educational purpose the T-4 warranty is 2 years.
---
[tab name="Videos"]
[endtab]
Save this product for later